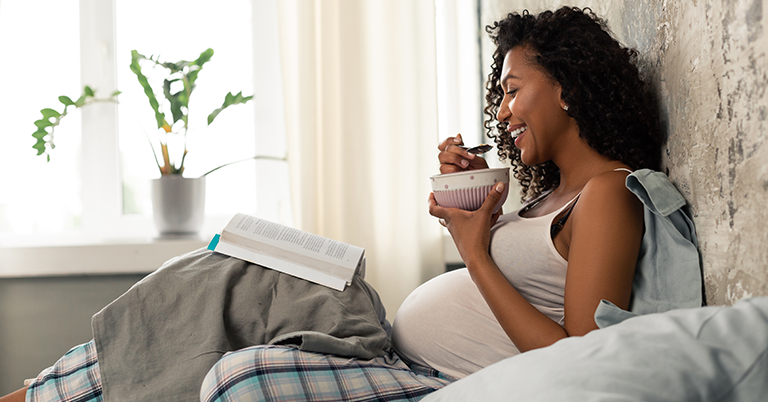 Did you know? You only need about 340 to 450 extra calories a day when pregnant. This is especially important later in your pregnancy when your baby grows quickly.
What you put in your body while pregnant, is just one way to take care of your baby. It's important to get the right nutrients from the foods you eat.
Here's a list of 10 foods you should incorporate into your diet while pregnant:
Fruit, either fresh, canned, frozen, dried and 100 percent fruit juice.
Whole grain bread, pasta, oatmeal and cereal.

Tip! Any whole-grain bread with at least two grams of fiber is a good choice.

Vegetables, either raw, cooked, frozen, canned, dried or 100 percent vegetable juice.
Chicken and turkey.

Tip! These provide you with low-fat protein and iron. Dark meat has more iron than light meat.

Baked potatoes and sweet potatoes.
Lean protein, including beef, poultry, beans, peas, eggs, soy products and nuts.

Tip! The main nutrient of popcorn is fiber. Make sure to go easy on the butter and salt.

Fortified ready-to-eat cereals.
Low-fat milk and milk products, yogurt and ice cream.

Tip! Make sure you're eating the healthy fish options like: sea bass, catfish, shrimp, oysters and many others. Learn more from the Food and Drug Administration.
Incorporating these foods into your diet while pregnant will help you make sure you are getting the nutrients you need to keep you and your baby happy and healthy. Remember to talk with your health care provider if you have any questions about your diet.