Can you go to the chiropractor while pregnant? This is a question many people wonder, and we get it! Pregnancy can cause so many new aches and pains in your body – especially your back. So, people oftentimes wonder what kind of help they can get during pregnancy and after giving birth.
Is chiropractic safe during pregnancy? What about after I give birth? How soon can I go to the chiropractor after giving birth? The Mother Baby Center and our experts are here to help answer that exact question. Below, we outline:
If it is safe to get chiropractic adjustments while pregnant.

The benefits of seeing a chiropractor during pregnancy.

If going to the chiropractor affects the baby.

If it's safe to go to the chiropractor after you give birth to your baby.
First-time parent? Get our advice and pregnancy tips.
Is it safe to go to the chiropractor while pregnant?
It is absolutely safe to see a chiropractor during pregnancy. Being pregnant can take a serious toll on your body. It can cause new and different aches and pains that you've never experienced before in your joints and muscles. Seeing a chiropractor during pregnancy can help soothe those new pains and especially if you have back pain prior to being pregnant.
There are many benefits to getting chiropractic while pregnant, like soothing your discomfort, positioning the baby for labor, walking better and more.
Benefits of chiropractic care during pregnancy: 
Soothing pain: By establishing pelvic alignment and balance, it can reduce your discomfort and your baby's discomfort.

Positioning the baby for delivery: With a balanced pelvis, babies have a greater chance of moving into the right position for birth, which also helps reduce the chance of a difficult labor.

Walking better: Most expectant mothers state that they feel like they walk better because there is fluid motion in the hip joints (SI joints).

One study finds that women receiving chiropractic care during pregnancy can reduce the chances of having back labor. 
When to start chiropractic care when pregnant
While there is no set start and end time for seeing a chiropractor during pregnancy, this is something you can add to your first prenatal visit list of questions. Your provider will be able to help you decide when and if prenatal chiropractic care is right for you and your pregnancy.
It's important to consider and ask about the experience the chiropractor has with treating pregnant women. Plus, make sure they have tables that accommodate pregnant patients as well.
Typically, people receive pregnancy chiropractic adjustments and care about once a month while pregnant. But, each person and each pregnancy are different, so depending on your needs and discomfort, your chiropractor will tailor a specific schedule for you. This will help align your body best for birth.
Are there any restrictions on adjustments at the chiropractor?
Your pregnancy chiropractor will talk to you about any possible restrictions on adjustments when you go to your appointment. Adjusting your body during pregnancy may look and feel a little different than before you were pregnant. They might have different adjustments to work around and with your growing tummy.
Does the chiropractor affect the baby?
Seeing a maternity chiropractor during pregnancy can affect the baby – in a very positive way. Aligning your pelvis not only positively affects you, but it can also help your baby too! Aligning your pelvis can actually create more space for your baby throughout pregnancy, allowing the baby to be more comfortable.
Plus, seeing a chiropractor while pregnant can actually position your baby correctly (head down) for birth. This can help avoid a difficult birth for you both.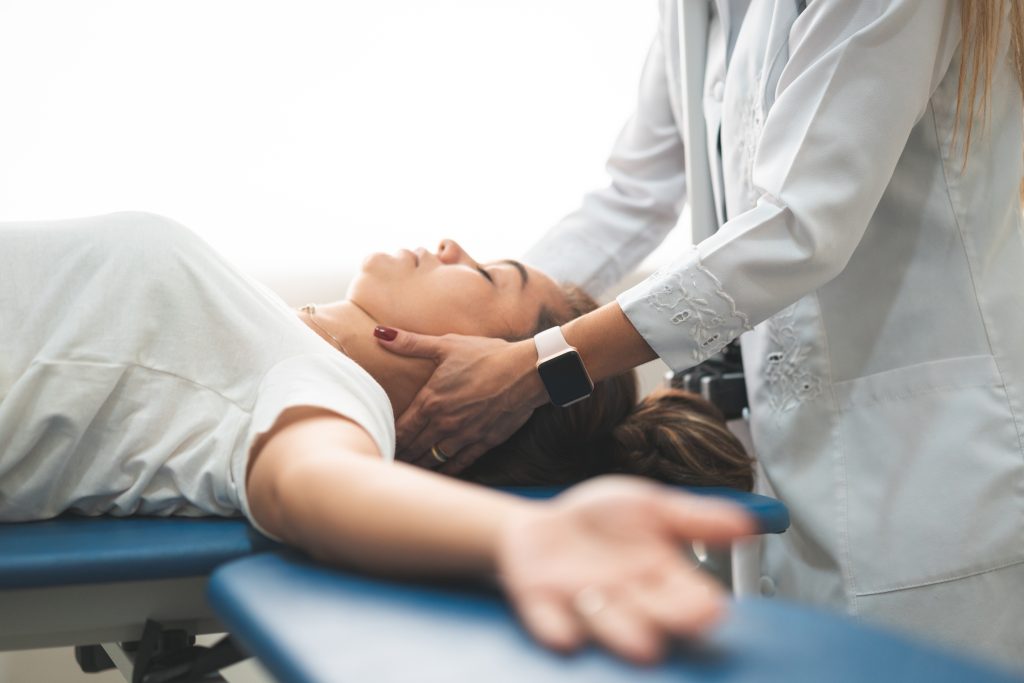 Is chiropractic care after pregnancy safe?
Not only is it safe to go to a chiropractor during pregnancy, but seeing a chiro after pregnancy is also safe. Because of the changes your body goes through during birth – your pelvis' biomechanics change – it can cause discomfort after birth when you're walking, nursing or sleeping.
There are many benefits to postnatal care from a chiropractor, like minimizing pain from labor, easing discomfort, helping with pelvic misalignment, and more. 
Benefits of chiropractic post pregnancy: 
Minimizing pain from birth: Restoring your pelvic balance can help ease the pain and discomfort you may have from giving birth.

Helping spine pain: It's important to mobilize the spine, mid-back, and shoulders as one may feel aches from breastfeeding, bottle feeding, or rocking your child.

Assisting with mid-back pain: Carrying a car seat or a newborn for extended periods of time can cause mid-back pain, but we can help relieve that.
How soon can I see a chiropractor after pregnancy?
Your provider and chiropractor can best advise you on when to start receiving chiropractic care after birth. This will all depend on how your labor and delivery went for you and your baby.
If you had a vaginal delivery that was uncomplicated, you may be able to see a chiropractor once you are able to leave the house. If you had an uncomplicated Cesarean birth (C-section), typically you will have to wait 4-6 weeks (or longer – sometimes even three months) to start receiving chiropractic care.
Are there any restrictions on adjustments?
Your chiropractor will talk to you about any possible restrictions on adjustments for your postnatal care when you go. They will likely make adjustments based on your new life with your new baby. Your body will be doing different things – rocking a newborn, carrying a newborn, breastfeeding, sitting, standing, etc. – so the chiropractor will help bring relief to your new lifestyle. New activities typically result in different aches and pains around your body and likely some you've never experienced before. That is what your chiropractor is here for – to help relieve that!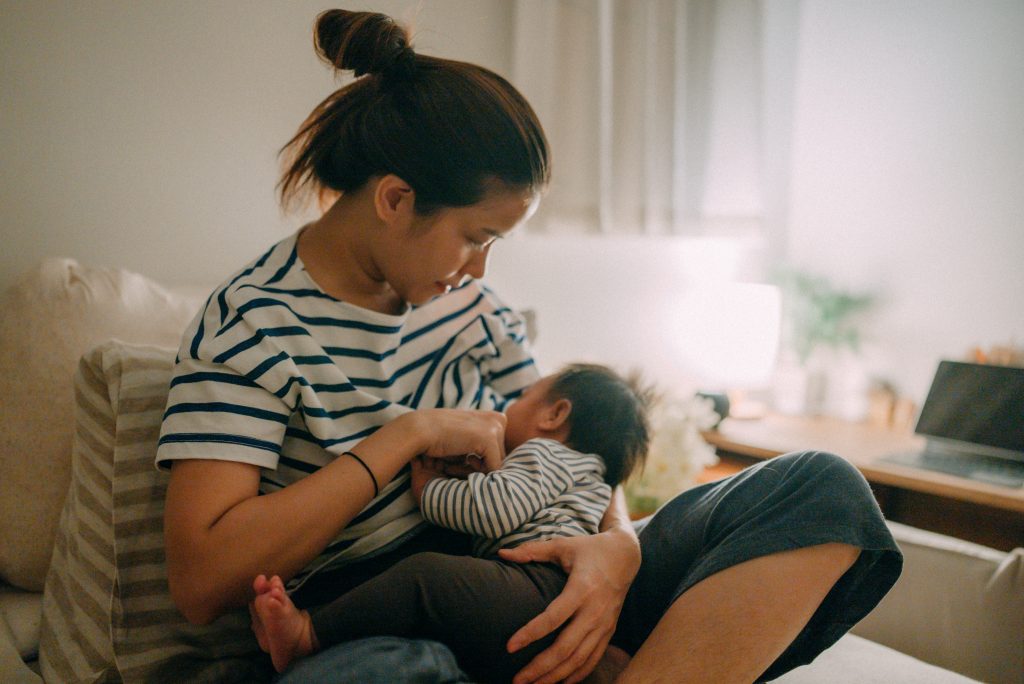 Visit The Mother Baby Center's affiliated prenatal chiropractors 
Our partners at Allina Health have many qualified, amazing chiropractors whom you can find relief and comfort from. If you already have a provider for your pregnancy, they can help recommend a chiropractor that's right for you. If not, find a provider within our system who can assist you with your birth at The Mother Baby Center.
We're grateful for the help from Dr. Rochelle Rougier-Maas, DC, who specializes in acupuncture and chiropractic care at Allina Medical Clinic in Edina, for her expertise on this article. Dr. Rougier-Maas has been at Allina Health for 20 years! The Allina Health chiropractic team has expanded to 11 providers, which all provide pre- and post-pregnancy care. We are located throughout the Twin Cities, with the newest location to open up by the end of 2022 in Shakopee-St. Francis, with two female providers.