The Mother Baby Center at United Hospital and Children's Minnesota in St. Paul is excited to announce the launch of an innovative new offering for patients and families seeking a family-centered, natural experience for their pregnancy and birth journey. The Natural Birth Experience, the first of its kind in the Twin Cities area, provides a birth experience rooted in respect, autonomy, education, shared decision-making and empowerment.
Kathrine Simon, CNM, lead certified nurse-midwife at Allina Health and The Mother Baby Center, helped us to learn more and answer some key questions about The Natural Birth Experience (NBE).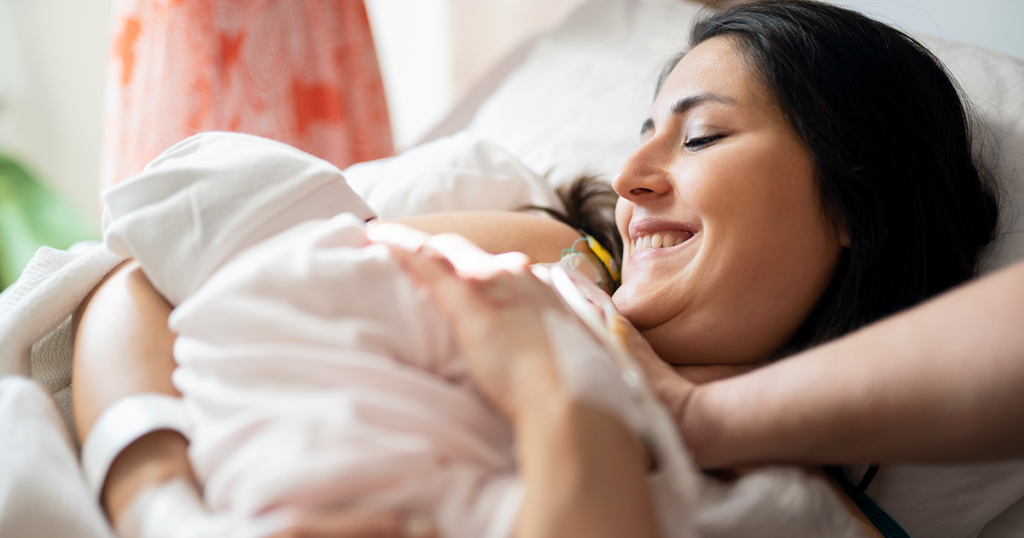 What is The Natural Birth Experience?
"The Natural Birth Experience really is just that — an experience," said Kathrine. "Though it is of course focused on birth, The Natural Birth Experience incorporates much more than just the birth event itself."
The NBE offers care, education and support through pregnancy, birth and parenting, and involves holistic care centered around patients and their families.
The Natural Birth Experience is based on physiological birth — especially the organic power of the birthing individual — which means medical interventions are only used if necessary, and a variety of natural, unmedicated and integrative interventions can be chosen by the patient and their family.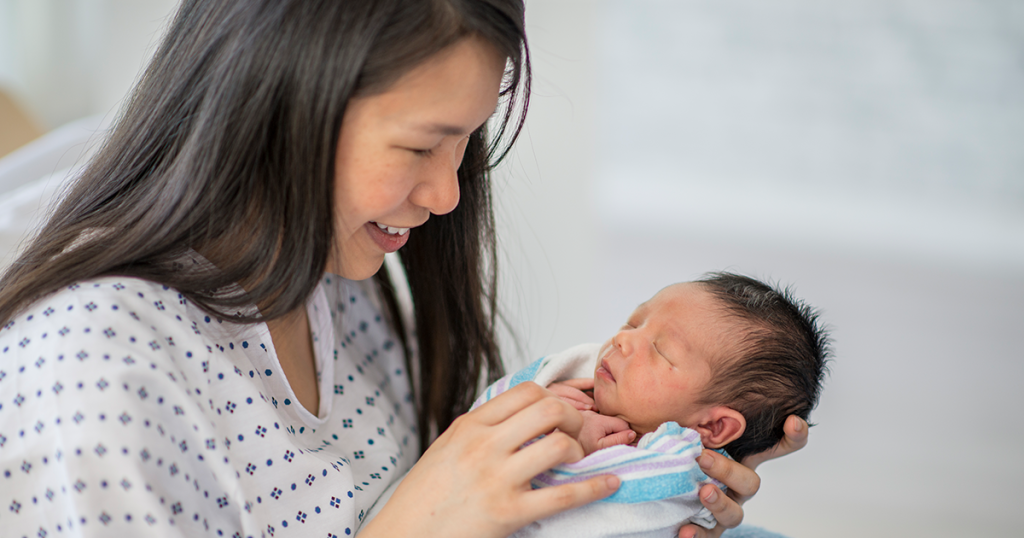 What are The benefits of The Natural Birth Experience?
Through the NBE at The Mother Baby Center in St. Paul, we have found birthing people appreciated freedom of movement, feelings of connection a quicker recovery time. A natural birth can be empowering all around for patients and their families.
Empowering for pregnant and birthing people and their families
For pregnant and birthing people and their families, the benefits reach beyond the physical aspects of the birth experience. The benefits include a strong sense of:
Autonomy
Individualism
Power to work in tandem with their body, during labor and the post-partum time
Ownership of the birthing process
Having many opportunities for learning
Empowering for providers
Kathrine said providers, such as midwives who accompany patients and their families through the experience, also love the intimate presence of natural births and the learning that each experience and care team relationship brings for them as well.
What role do midwives or other providers play in The Natural Birth Experience?
The Natural Birth Experience is primarily led by midwives, but all providers and health care team members who support the experience aim to be thoughtful information-gatherers and relationship-builders who provide patients and their families with physical support, education and empowerment through their partnership on a care team.
In The NBE, Kathrine says, "Providers don't simply dictate care for a patient: with a shared decision-making model, care and intervention decisions are made together with knowledgeable and experienced providers as well as patients, their family and other support people."
Prenatal care
Prenatal care goes hand-in-hand with The Natural Birth Experience. Prenatal education and discussion are key to help ensure that patients and their families feel as understood, empowered and prepared for birth as possible, said Kathrine. Patients can choose to see a midwife or other provider beginning in pregnancy for NBE.
Doulas and support people
In The Natural Birth Experience, doulas and other support people are welcome and valued as members of the care team and can intimately and personally augment the care of providers like midwives or physicians.
Backed by expertise of OBGYNs and the NICU
All patients at The Mother Baby Center are supported by the hospital safety net of providers, including OBGYNs and neonatal intensive care unit (NICU) physicians, so their support is immediately available if necessary. No matter what happens, patients and families will continue to be empowered and supported.
 "Providers in The Natural Birth Experience have developed a strong understanding of when such interventions are needed or wanted and when they are not," said Katherine. This model gives patients the freedom and autonomy to have the natural birth they desire with the collaboration of OBGYN and NICU partners in the same location.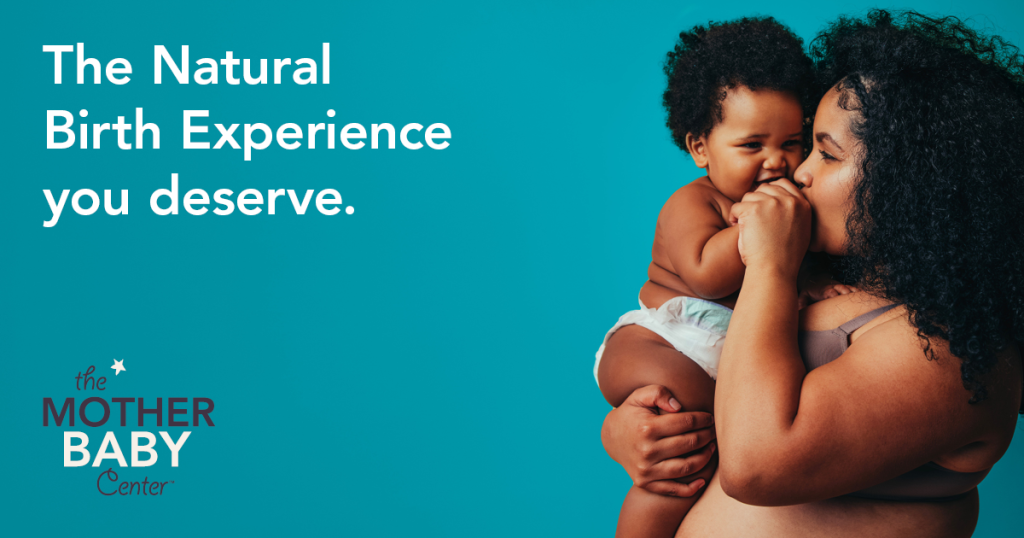 What interventions are available at The Natural Birth Experience?
There are many unmedicated interventions and labor and birth options available to patients and their families in The Natural Birth Experience. With the support of their chosen care team and birth plan, patients have the freedom to:
Eat and drink
Move around, labor in different positions and use birthing tubs, showers, and hydrotherapy
Try aromatherapy, music, lighting, acupressure, massage and other holistic and non-medicated interventions
All of these options are available at their fingertips and with the support of their care team.
Pharmacological interventions such as nitrous oxide and epidurals are still available to patients as well, but may require more monitoring or the addition of new care team members. Learn more about your pain management options at The Mother Baby Center.
Is The Natural Birth Experience right for me?
If you'd like to learn more about The Natural Birth Experience, or are wondering if it's right for you, you should first find a provider, such as a midwife, an OBGYN, or a family practice-OB physician, and talk to them about your options.
Not all elements of The Natural Birth Experience will apply to every pregnancy, but Kathrine urges all patients to talk to their providers and see what options are available to them. Even if you are not able to give birth in The Natural Birth Experience, many holistic, integrative and non-medicated interventions and choices are available to all patients at The Mother Baby Center.
Is The Natural Birth Experience at United Hospital right for you?
The Natural Birth Experience might be a right fit for you if:
You are pregnant with one baby
You are having a healthy, low-risk pregnancy
You have a body mass index (BMI) of less than 40
You gain less than 50 pounds during pregnancy
You have not had a previous Cesarean birth
You are not taking medicine for gestational diabetes
If you need a medical intervention during your labor or birth, you may be moved to another room in the Labor and Delivery Unit where you and your baby will receive extra monitoring or specialty care, if needed. Your health care team will continue to care for you until you leave the hospital.
If you need to have a Cesarean birth, other health care team members, including an obstetrician (childbirth specialist), may join your health care team.
Through The Natural Birth Experience and at The Mother Baby Center, patient-centered, whole-person and relationship-based care means giving all patients and families the chance to feel heard and empowered in their pregnancy and birth experience.