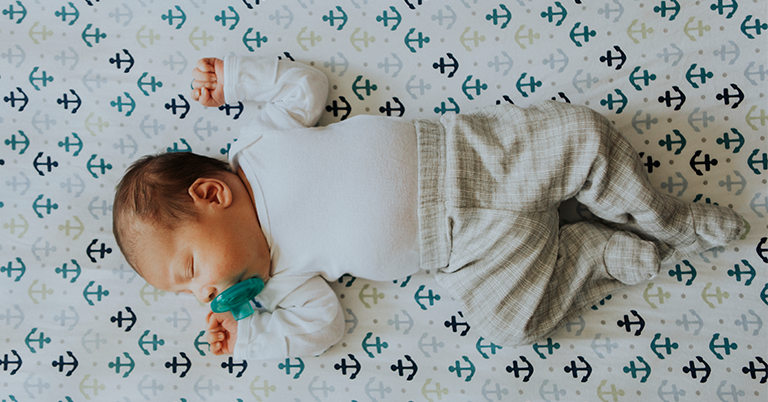 Sleep is important for everyone, but especially for babies. If you're a new parent or if you're expecting, you may feel extra stressed about keeping your new baby safe in all aspects of life. One aspect that's important to keeping your baby safe is their crib—don't snore on crib safety!
In 2011, the U.S. Consumer Product Safety Commission (CPSC) required new crib safety standards for all cribs made and sold in the U.S. Here are 5 tips for choosing a crib for your baby:
A crib with no drop-side rail.
The CPSC banned the sale of drop-side rails for safety reasons. The side rails should not be able to move. Do not buy or accept a used crib with a drop-side rail.
Safe slat distance.
The distance between slats must be no more than 2-3/8 inches (6 centimeters) to protect infants from falling out and toddlers from trapping their heads between the slats.
The firmest mattress you can find.
Don't rely on manufacturers' labels — test it yourself by pushing firmly on the center and all sides of the mattress. Make sure the mattress holds firm and springs back in place quickly. This is extremely important because soft mattresses may play a role in sudden infant death syndrome (SIDS).
A mattress that fits snugly in the crib.
This prevents your baby from slipping in between the mattress and the crib sides. Make sure to remove any plastic mattress packaging before use. If you use a mattress pad, buy one that fits tightly.
Corner posts that are the right height.
If the crib has corner posts, they must be either flush with the top of the headboard and footboard or very tall — over 16 inches (41 centimeters). Anything in between is a potential strangulation hazard.
Here are extra safety notes for your new baby and their crib:
Always place your baby on his or her back to sleep.
Make sure the crib has not been recalled by the manufacturer. The CPSC has a list of recalled cribs you can check.
Check all screws and hardware regularly and tighten them if necessary.
A bare bed is best. Don't place bumper pads, soft bedding, or soft toys (blankets, fluffy comforters, pillows, plush toys) in your baby's crib. Any of these items could cause your baby to suffocate.
Remove mobiles when your baby starts to push to his or her hands and knees or when your baby turns 5 months old—whichever comes first.
Do not place a crib near a window or drapes. Your baby could fall or become entangled in window blind and drape cords.
Remove bibs and necklaces from your baby's neck before putting your baby in the crib.
Do not hang toys by strings.
Make sure sleepwear and sheets are flame retardant.