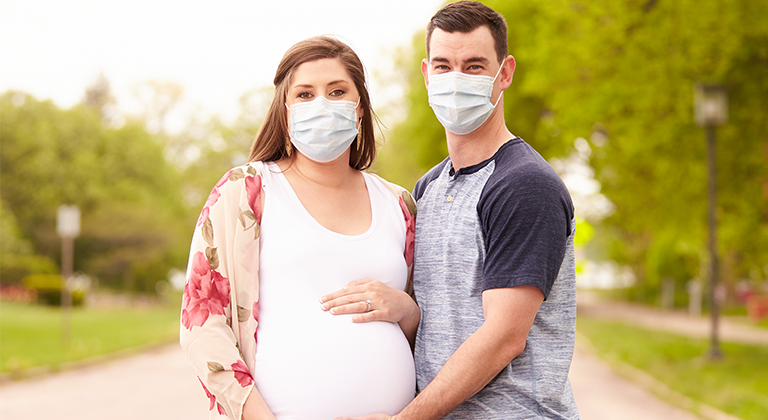 First time mom Lauren didn't know what to expect as she prepared to give birth in the midst of COVID-19. The normal fears that race through an expecting mother's mind had increased tenfold: Would her husband be able to be with her for the birth? Would she have to labor with a mask on? Would her baby be exposed to COVID-19?
Lauren's water began to break in the early hours of June 23, so she and her husband packed up, masked up and headed to The Mother Baby Center, a partnership between Allina Health and Children's Minnesota. Upon arrival, she and her husband were greeted by a nurse named Allison, which they took as a good sign because they were planning to name their daughter Allison.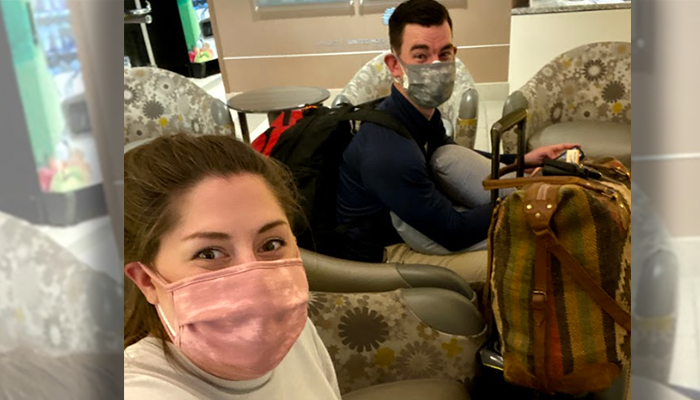 Lauren received her standard COVID-19 tests and then settled into their room while her care team worked with her to help dilate and prepare for birth.
The birth of Allison Grace Hall
Lauren and her care team spent the evening going through many different ways to encourage dilation, from medication and manual dilation, to bouncing on the medicine ball and using a Foley balloon. After 24 hours of teamwork, she had made it to 3.5 cm and was ready for Pitocin and her epidural. Lauren continued to labor throughout the day, but by the evening her epidural could no longer keep up with the pain of her contractions. When the anesthesiologist came to increase her dosage, they decided to check her and saw that Lauren was fully dilated and effaced—baby was coming.
At that exact time, the four on-call doctors had been rushed into emergency C-sections, which meant Lauren's husband, her nurse Jen, and her midwife were going to be the ones with her through this delivery. Lauren recalls feeling like she had her own personal cheerleading squad throughout the entire process: "I can still hear the midwife yelling 'Yes, yes, great job right there, keep pushing, she's coming!' and the nurse screaming 'Great job, you've got it, keep going!'"
Lauren's midwife, Kathrine, felt honored to be part of Lauren's experience at The Mother Baby Center. "We are invited to their birth experience and that is powerful. It is beautiful to see a family be born."
After 44 hours of labor and 3.5 hours of pushing, Allison Grace Hall was born.
Lauren's experience with The Mother Baby Center during COVID-19
Reflecting on her pandemic birth, Lauren said: "The Mother Baby Center made the experience feel so normal and [the care providers] were all so kind, positive and amazing. Plus the joy of welcoming our child that I honestly forgot while we were there that [a] global pandemic was even happening."
She and her husband were so grateful for the extra steps their care team took to ensure they felt comfortable, confident and encouraged, even behind the masks. Lauren says that their nurse Allison was an incredible member of their care team and even came back to meet baby Allison the next day.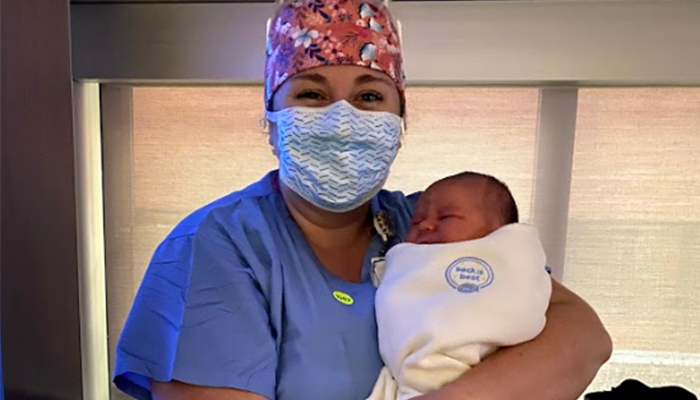 Words of wisdom
Lauren's words of wisdom to other mothers preparing to deliver right now? Don't stress about things beyond your control.
"My labor still felt so special and I didn't think about COVID once while I was in the labor or postpartum because I was so caught up in the special moment, and the nurses and doctors made it all feel very normal," Lauren explained. "I could feel their positivity and smiles even through their masks!"
While it's been hard not to have loved ones visit since coming home, the new family of three is finding their new routine at home and connecting with friends and family virtually for the time being.