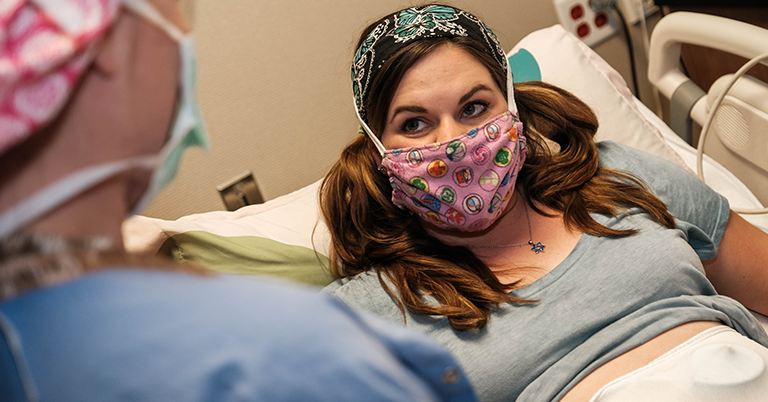 Being an expecting parent can be a stressful time, but expecting a new baby during a global pandemic can add to that stress. However, The Mother Baby Center is doing everything we can to make our locations the safest places to give birth. For example, we have updated our visiting guidelines and now require a face mask to be worn inside our locations.
Face masks have become a regular part of our everyday lives when we venture out from our homes. But, one of the questions we're getting asked the most is: Do I have to wear a mask while giving birth?
Do I have to wear a face mask while giving birth?
Below, we outline our mask regulations for labor at The Mother Baby Center.
You (the birth giver) and your visitor must wear a mask when:
Any health care professional is in the room, if all health care professionals leave at one time, you may remove your mask until they come back.
You can remove your mask during labor if all of these things apply to you:
You are in the second stage of labor, which means you are pushing, and you can't tolerate wearing a mask.
You have no symptoms of COVID-19.
You have a negative COVID-19 test.
While we know having a face mask on during labor isn't ideal, it is extremely important. Every person wearing a mask on both sides – patients, visitors and health care professionals – is meant to protect everyone involved.
One patient at The Mother Baby Center was asked how she felt about giving birth during COVID-19. "Although it is a crazy time, my labor still felt so special and I didn't think about COVID once while I was in labor or postpartum because I was so caught up in the special moment and the nurses and doctors made it all feel very normal," Lauren Hall said. "I could feel their positivity and smiles even through their masks!"
The COVID-19 outbreak has caused a lot of stress and worry for all parents – expecting or not. The Mother Baby Center wants to be a resource for you to get all of your questions answered. If you have any additional questions about pregnancy, labor or delivery during COVID-19, visit our Frequently Asked Questions page.