Pregnancy can bring on a whirlwind of emotions. One day you might feel excited and blissfully happy, and the next you might feel anxious or even depressed. You'll likely experience a range of emotions throughout these nine months. But, that's why it's so important to take care of your mental health during pregnancy.
The Mother Baby Center is here to help. We're going to explain what potential (and sometimes common) mental health issues can be, give you self-care tips and provide resources for you.
Mental health and pregnancy: What you need to know
There are many changes happening within your body during pregnancy, and we want you not to worry – it's all normal! It is normal to feel sad during pregnancy or even experience depression and anxiety during pregnancy. And, know that you're not alone. So many other women experience these changes and feelings. 
Being aware and mindful of your mental health and seeking emotional support during pregnancy can actually have benefits like:
You can express and talk through your emotions.

You can create a supportive community of friends and family, or work with a professional.

Learning anxiety-reducing tips and tricks.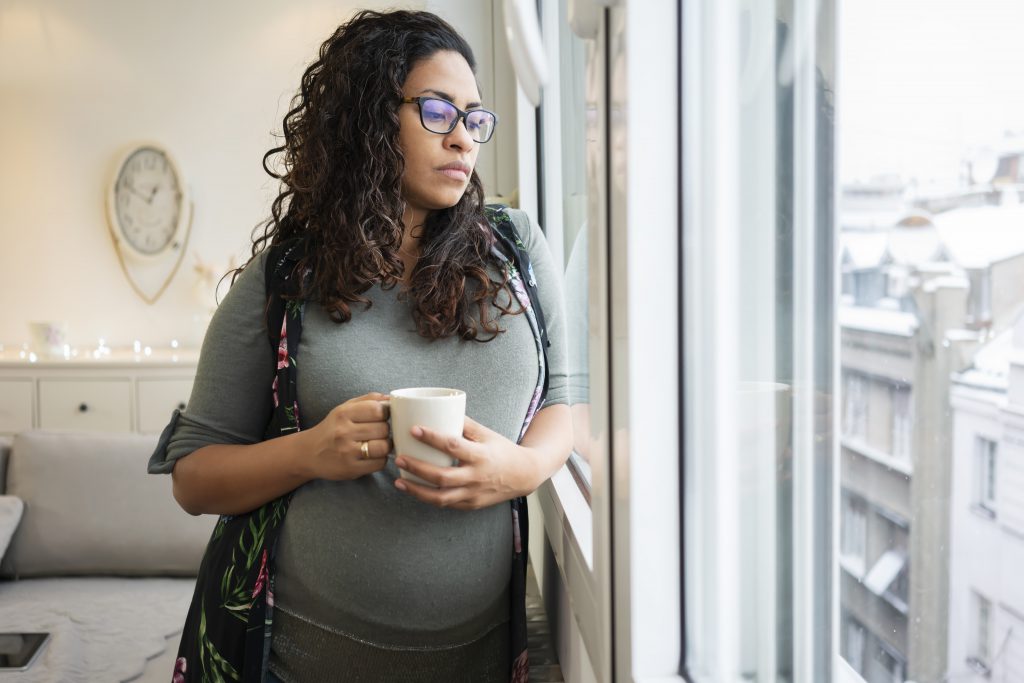 Potential mental health issues for pregnant women
Depression
While everyone feels sad sometimes, those feelings typically pass within a few days. Depression is when this sadness disrupts your daily life and may last for weeks or months. 
According to the Centers for Disease Control and Prevention (CDC), about 1 in 10 United States women experience symptoms of depression. And, CDC research shows that nationally, about 1 in 8 women feel symptoms of postpartum depression. 
Feeling alone during pregnancy or after is certainly not ideal. Talk to your doctor if you experience the following symptoms: 
Lasting sad, anxious, or "empty" mood.

Feelings of hopelessness or pessimism.

Feelings of irritability or restlessness.
Anxiety
Anxiety is a feeling of nervousness, worry or concern. Pregnant people may feel anxiety about the health of their baby and themselves. But, know you're not alone.
Constant worry and tension.

Feeling of doom.

Trouble sleeping or rapid heartbeat.
Other possible mental health issues during pregnancy
There are other potential mental health issues that may surface or intensify during pregnancy. These could be: bipolar disorder, post-traumatic stress disorder (PTSD), obsessive-compulsive disorder (OCD) and eating disorders.
Self-care tips to boost mental health for new and expecting mothers
Self-care is important to everyone – especially pregnant women and mothers. Here are a few self-care tips for new and expecting moms.
Carve out time for relaxation
There are many mental and physical benefits of making time for yourself to relax – whether you're pregnant or not. Here are some relaxation techniques you could try:
Read a book or magazine.

Journal and write down what you're grateful for.

Do yoga or meditate.

Nap.

Visit the spa for a massage or facial.
Engage in positive self-talk
It's important to try and stay positive during pregnancy, especially with how you talk to yourself. Positive self-talk will have mental and physical benefits.
It can be easy for new moms to get overwhelmed and feel like they aren't doing the right thing or that they feel like they have no idea what they're doing. Here's some examples of positive self-talk for new moms:
"I am a dedicated and loving parent."

"I am a warrior, and my body is healing."

"I am doing the best that I can for my new baby, and that is enough."
Resources for emotional support during pregnancy
If you're wondering how to feel better during pregnancy, you've got a whole lot of options. From prescription medications to therapy and support groups, there is a solution to fit your needs.  
Prescription medications
There are prescription medications that are safe to take while pregnant. If you are already taking medications for your mental health, be sure to talk to your doctor about how the medication may affect your baby. But never stop taking your medication without talking to a health care provider first. Your provider will help you change or create a treatment plan that will help both you and your baby.
Therapy
Therapy for pregnancy struggles can have immense benefits. Talking with a mental health professional can help you manage the stress of becoming a parent, and ease feelings of anxiety or depression.
Support groups
If you're feeling overwhelmed, think about connecting with one of our support groups of women just like you who experience the ups and downs of pregnancy and motherhood.
Explore pregnancy support services at The Mother Baby Center
The importance of caring for your mental health during pregnancy cannot be overstated. If you're experiencing mental health issues while pregnant, as we've said, it's completely normal. And, best of all, that doesn't mean you can't have a happy pregnancy! 
The Mother Baby Center wants your pregnancy and life with your new baby to be as blissful as possible. That's why we offer so much different support, from breastfeeding and lactation support to recovery support and support groups.