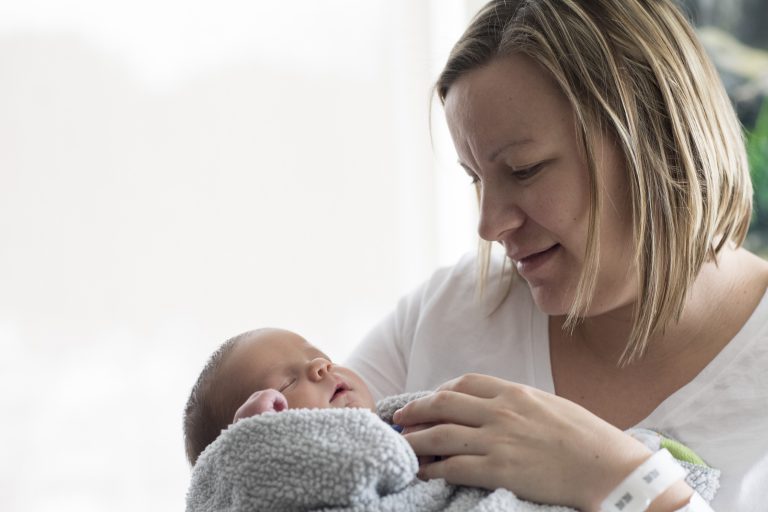 Doctors agree that breastfeeding is best for babies. But many mothers can find nursing challenging. That's why Mother Baby Center, a partnership between Allina Health and Children's Minnesota, provides access to certified lactation consultants. These experts offer support and guidance to help you get started breastfeeding and bonding with your baby right away.
Even if you plan to bottle feed at home, it's beneficial to breastfeed while in the hospital. Decades of research has proved the benefits of breastfeeding. Your early milk, known as colostrum, provides an important source of antibodies to protect your baby against disease.  Other benefits include lowering the risk of allergies and infections in your baby, as well as helping you recover faster from birth. Our lactation consultants are certified by the International Board of Lactation Consultant Examiners. They can offer assistance with many concerns, such as latch-on difficulty, sore or damaged nipples, engorgement, slow or no weight gain, milk supply concerns, breast pumping and equipment, and much more.
All of our center locations have banked human breast milk available for babies in case supplementation is needed. It is also available for babies receiving treatment in the special care nursery or NICU. We receive our banked human breast milk from the Human Milk Banking Association of North America, where is it is screened, tested for safety and pasteurized.
With lactation offices at our Minneapolis, St. Paul, and Coon Rapids locations, The Mother Baby Center is here to address and help with any of your breastfeeding questions or concerns.
We understand and appreciate that how a mother and family chooses to feed their baby is a very personal decision. We proudly and warmly support all mothers in their infant feeding choice. Learn more about lactation office hours, or make an appointment for a consult today!