Lillian Puls' complex medical journey would be considered a long road for a kid of any age – let alone someone who is not even 2 years old. It all started before Lillian was born. Her parents, Maggie and Zach, went in for their 20-week ultrasound near their home in Ames, Iowa. The routine appointment quickly shifted in tone after the Puls' care team noticed something concerning.
"My heart sank. I knew there was something wrong," recalled Maggie, a pediatric nurse. "My doctor came back in the room and told us about a long list of possible diagnoses."
Maggie's doctor referred her to a fetal medicine expert in Des Moines for a more detailed ultrasound. There, Dr. Jason Picconi, a Perinatologist at MercyOne in Des Moines, detected concerns with the baby's brain and spine. Dr. Picconi previously trained with Dr. Saul Snowise, medical director of the Midwest Fetal Care Center (MWFCC), a collaboration between Allina Health and Children's Minnesota. Because of this history, the Iowa-based physician referred the Puls to Dr. Snowise.
"Dr. Picconi said, 'You're going to have to go higher than me for answers,'" Zach explained. "The doctor told me, 'I wouldn't refer you to Dr. Snowise if I didn't like him and trust him.'"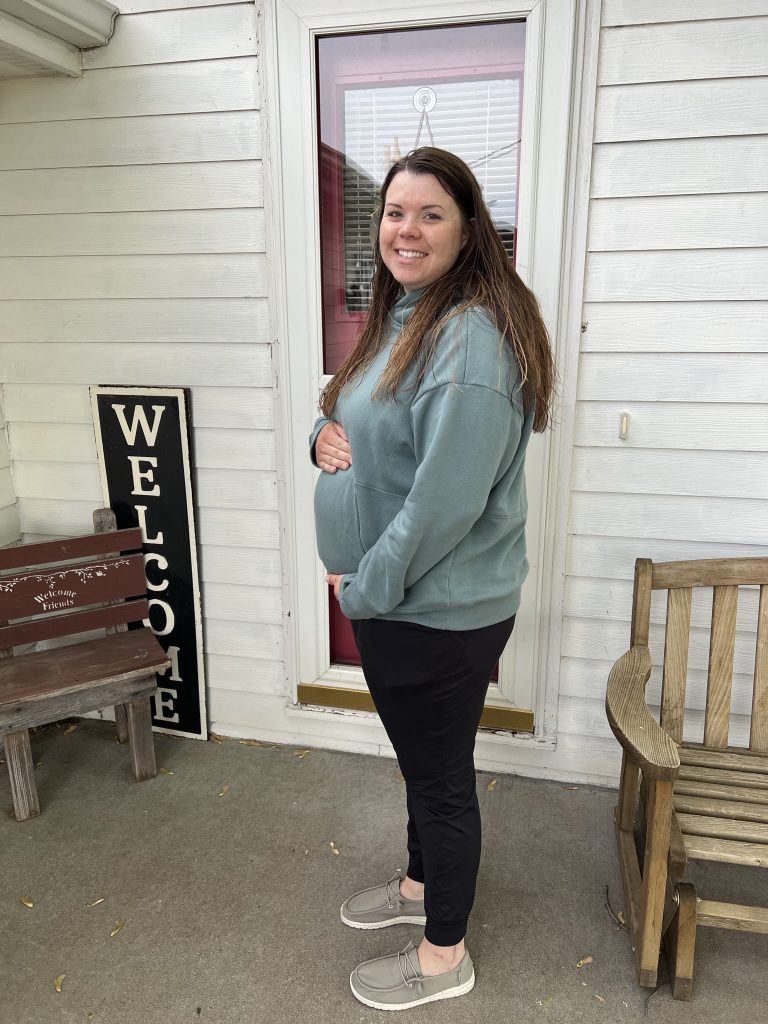 Answers at the Midwest Fetal Care Center
Maggie and Zach made the 200-mile drive from rural Iowa to Minneapolis to meet with Dr. Snowise; Dr. Joe Lillegard, the head of open fetal surgery at the MWFCC; and Dr. Kyle Halvorson, pediatric neurosurgeon with the Children's Minnesota's neurosurgery team.
After thorough tests and ultrasounds, Dr. Snowise diagnosed Maggie's unborn child with a type of spina bifida called myelomeningocele. The diagnosis meant Maggie's baby could face lifelong challenges moving certain their lower extremities, bladder and bowel control problems, and other complications. The multi-disciplinary team of highly trained experts got to work.
"One of the bigger things that built my trust in the team was when Dr. Snowise came in with a bunch of pieces of paper and drew pictures and wrote out statistics to show us that he knew what he was talking about," Zach recalled.
Notes on paper soon evolved into a detailed care plan. After additional tests, ultrasounds and an in utero fetal MRI, the team decided to perform a minimally invasive procedure, called a fetoscopic myelomeningocele (MMC) repair, once Maggie reached 25 weeks gestation.
"One of the reasons why I chose the procedure was so I could have the baby vaginally and not via c-section. Down the road there is less risk during another pregnancy," Maggie said.
'We wanted to do what we could'
On May 24, 2022, Maggie underwent the fetoscopic MMC repair. After making an abdominal incision to expose Maggie's uterus and positioning the fetus to allow access to her back, the multidisciplinary fetal surgery team made three, five-millimeter incisions in Maggie's uterus. They then inserted a small camera, called a fetoscope, through one incision. Using the fetoscope to see the fetus' spine, the fetal surgery team used "micro" surgical instruments to repair the unborn child's spina bifida. The whole fetal surgery team was very pleased with the finished repair at the end of the surgery. Before fetal surgery for myelomeningocele was an option, infants would undergo repair of their defect within a few hours of life.
"We could have done the repair after birth," Zach explained. "But we wanted to do what we could to help her developmentally before she was born."
After the successful procedure – Lillian, as her parents would soon name her – continued to grow in-utero. In Minneapolis, Maggie's care team at The Mother Baby Center, a partnership between Allina Health and Children's Minnesota, closely monitored the expecting mother after she was diagnosed with global membrane separation. There was a chance Maggie's amniotic sac could have wrapped around her unborn baby – but thankfully it didn't. In total, Maggie spent seven weeks at The Mother Baby Center and was induced at 36 weeks. After months of worry and anticipation – Lillian, the Puls' first child – entered the world.
Intensive care and another diagnosis
Moments after Lillian took her first breaths, she was taken to the Children's Minnesota neonatal intensive care unit (NICU) in Minneapolis for 24 hours of observation. Her neonatal care team closely monitored the newborn. This included keeping a watchful eye on the repair done during Lillian's fetal surgery. Once she was big enough, Lillian had an MRI to reevaluate her brain and spine. In particular, Dr. Halvorson's team was closely studying the size of the fluid spaces of her brain as well as the base of her brain which is integral for control of breathing, balance, swallowing and muscle movement. Dr. Halvorson also reviewed the improvement in her myelomeningocele on her spine imaging.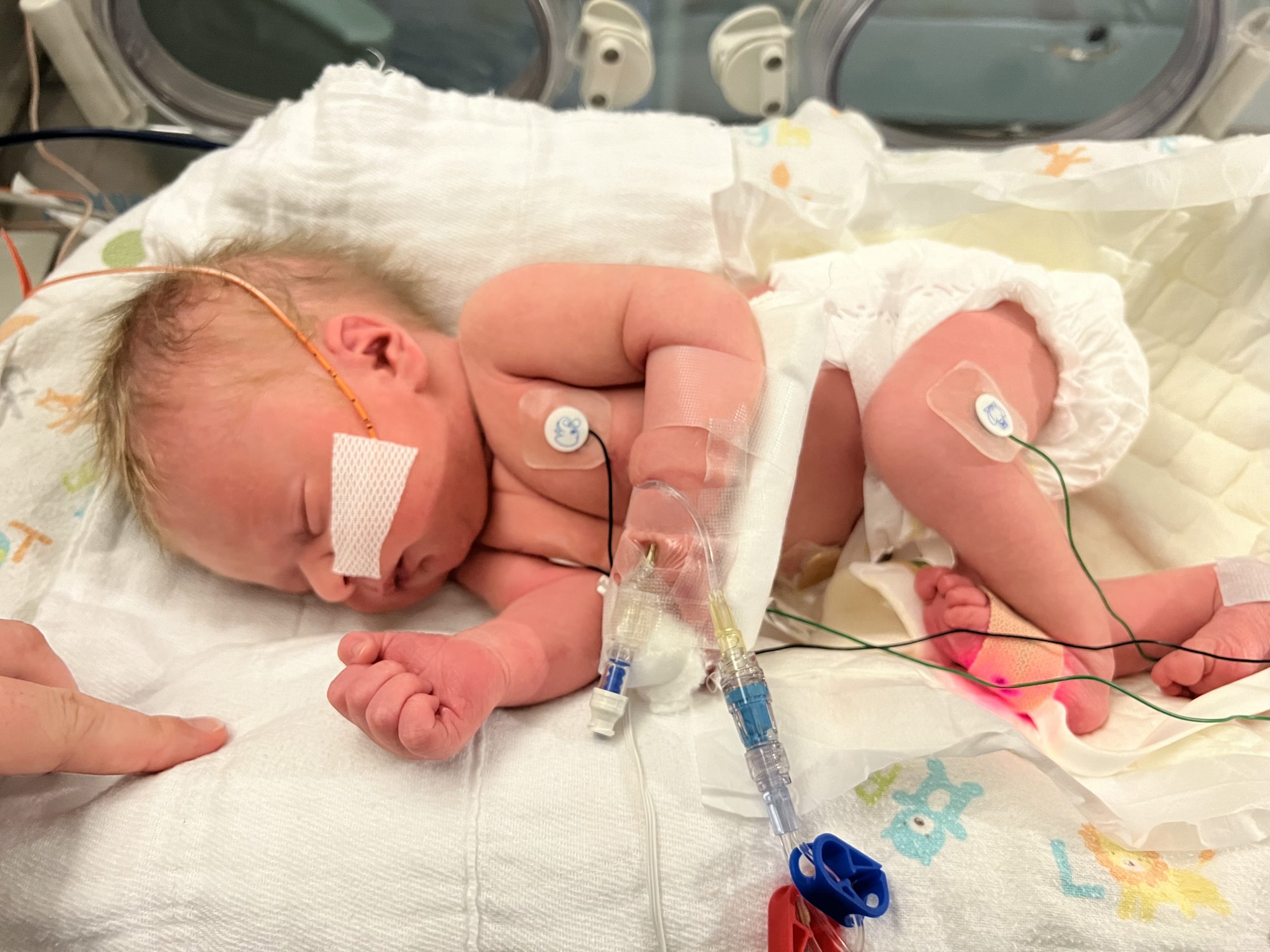 "During weekly ultrasounds when I was pregnant, we could not see if the cerebellum [part of the base of the brain mentioned above] had positioned properly," Maggie said. The scan confirmed the cerebellum was right where it should be. This was a major win for Lillian!
After 19 days of observation and testing in the infant care center (ICC) at Children's Minnesota in Minneapolis, Lillian got to go home – for now.
Around Lillian's first birthday, her parents learned she had a potentially dangerous buildup of cerebrospinal fluid (CSF) within the fluid-filled spaces of her brain, a diagnosis called hydrocephalus. Once again, the Puls turned to Dr. Halvorson and the Children's Minnesota neurosurgery team. Lillian's care plan began with medication to decrease her excess CSF levels. This helped at first, but Lillian soon needed brain surgery as a long-term fix.
"If Dr. Halvorson can do fetal surgery, then we trust him to do everything else," Maggie said.
In May 2023, Dr. Halvorson performed a brain surgery called endoscopic third ventriculostomy (ETV). During the procedure, a tiny hole was made in the bottom of the hollow places in Lillian's brain, called ventricles, to let the extra CSF drain and safely absorb into her bloodstream. Despite a successful ETV, Lillian's brain continued to make more fluid than her body could handle. To treat this challenging concern, Dr. Halvorson placed a special tube, called a shunt, from Lillian's ventricles to the space inside her abdomen where the stomach, bowels and other internal organs sit. The successful procedure allows excess CSF to safely drain and be naturally absorbed by Lillian's body.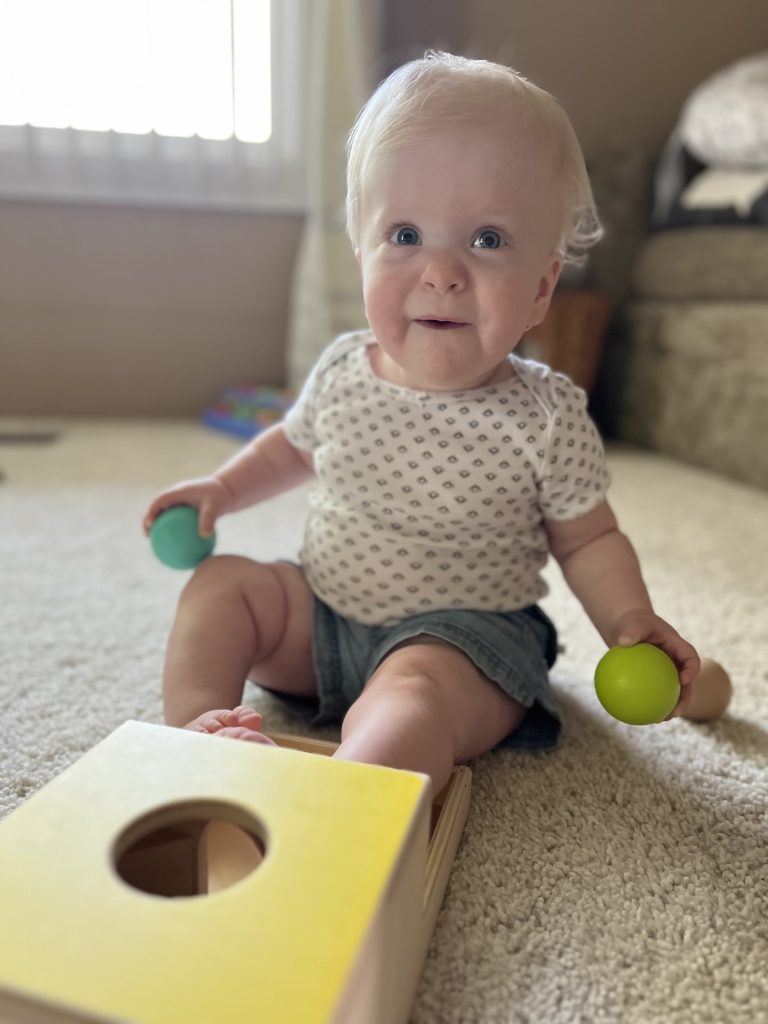 Lillian and her family still make the 400-mile roundtrip drive from Iowa to the Twin Cities for follow-up appointments with Dr. Halvorson and other Children's Minnesota specialists. Lillian is now crawling, and her parents say she may need help with a walker or leg braces someday. She is also playing more and keeping her parents busy.
"She has been a completely different kid," Zach said proudly of his daughter's progress through her care journey.
Did you receive care at The Mother Baby Center?
We'd love to hear from you!