First time parents Kinzie Burnham and Jeffrey Baty have logged a lot of miles on the road over the last two-plus years. The miles quickly started winding on their car's odometer shortly after the couple's 18-week ultrasound in September 2020. During that routine doctor's appointment in their hometown of Bismarck, North Dakota, everyone was smiling as the future parents waited to find out if they were having a son or a daughter.
"It was the big ultrasound," Kinzie said while reflecting about the moment she learned her baby was a girl. "All the sudden the ultrasound technician stopped smiling and left the room."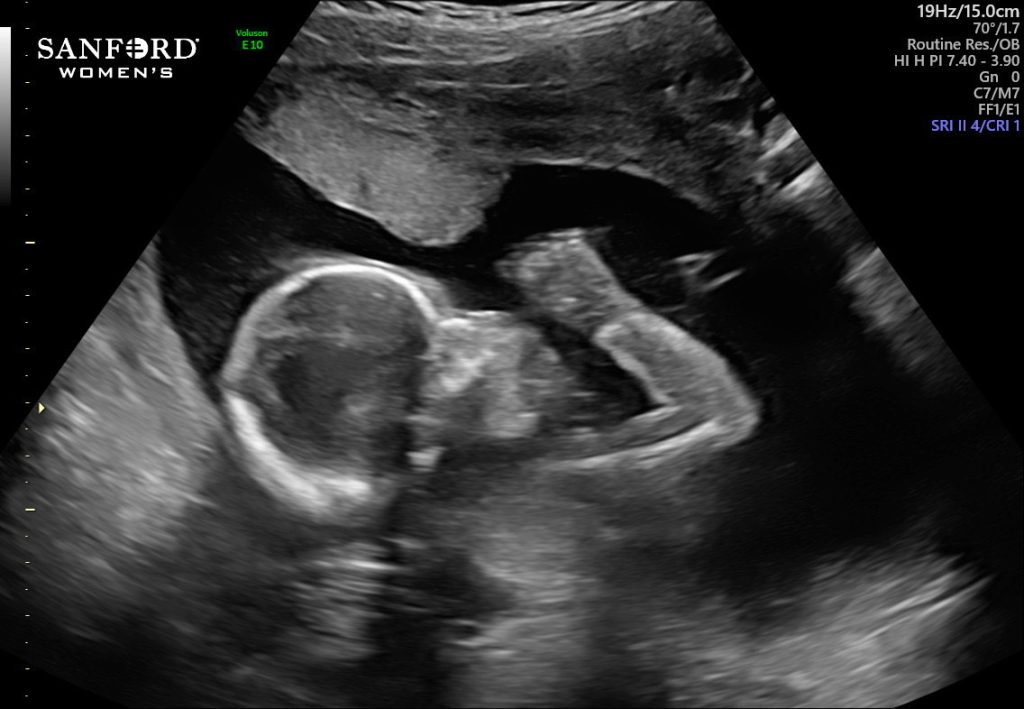 After reviewing the ultrasound, Kinzie's OBGYN, Dr. Ana Tobiasz of Sanford Health in Bismarck, diagnosed Kinzie's daughter with spina bifida. This birth defect occurs when the bones of the spine do not fully develop leaving an opening in the spine. The condition leaves an unborn child's developing spinal cord and nerves unprotected, and exposed to amniotic fluid during pregnancy resulting in progressive damage.
"I broke down that day, we were brand new parents and had never heard of spina bifida until our 18-week ultrasound," dad Jeffrey recalled.
"In my heart I knew everything was going to be OK," Kinzie recalled. "It was my turn to be the strong one, after a few days I broke down wondering 'how did this happen to us?'"
As the parents processed the news, Dr. Tobiasz put a plan in place to help the unborn child.
Seeking answers
Kinzie's doctor in North Dakota quickly referred her to Dr. Joe Lillegard, the head of open fetal surgery at the Midwest Fetal Care Center; and Dr. Saul Snowise, the medical director of the Midwest Fetal Care Center (MWFCC), a collaboration between Allina Health and Children's Minnesota. The MWFCC is one of only a few advanced fetal centers in the U.S., and the largest multidisciplinary center in the Midwest focused on fetal care from diagnosis to intervention. Two weeks after their ultrasound in Bismarck, the couple made their first 400-plus-mile trek to the Twin Cities to meet with Dr. Lillegard, Dr. Snowise, and the rest of the multidisciplinary team.
During an ultrasound evaluation at the MWFCC, Dr. Snowise confirmed the diagnosis in Kinzie's unborn baby, Stella, as a severe form of spina bifida called myelomeningocele. This meant Stella, if untreated, would be born with a gap in the bones of her spine, and a tiny sac containing nerves and spinal fluid would stick out of her back.
The specialist also discovered concerns with her hips, bladder and that she had clubbed feet – a birth defect that causes one or both of a baby's feet to turn inward and downward. Dr. Snowise also diagnosed Stella with a buildup of spinal fluid in the hollow places of her brain called hydrocephalus. Stella's family worked closely with specialists at Children's Minnesota's Neurosurgery program to monitor this diagnosis before she was born and throughout her infancy.
Developing an expert care plan
Halfway through Kinzie's pregnancy at the 20-week milestone, she and Jeffrey now had the full picture of their unborn daughter's diagnoses.
Dr. Snowise and Dr. Lillegard quickly started working with Kinzie and Jeffrey on a personalized care plan to fix baby Stella's spine. The physicians considered different prenatal and postnatal spina bifida surgeries already offered at the Midwest Fetal Care Center. After looking at all the options available for baby Stella to have a successful outcome, the fetal specialists decided on a new, state-of-the-art, minimally invasive surgical procedure called  fetoscopic Myelomeningocele (MMC) repair – it would be the first ever performed in Minnesota.
"Dr. Lillegard sat down with Dr. Snowise and two other nurses and us," Jeffrey recalled. "He wanted us to take a few days and think about it, then the whole team got together."
"Ultimately I decided to go ahead with the surgery and make sure Stella had the best possible chance when she was born," Kinzie explained.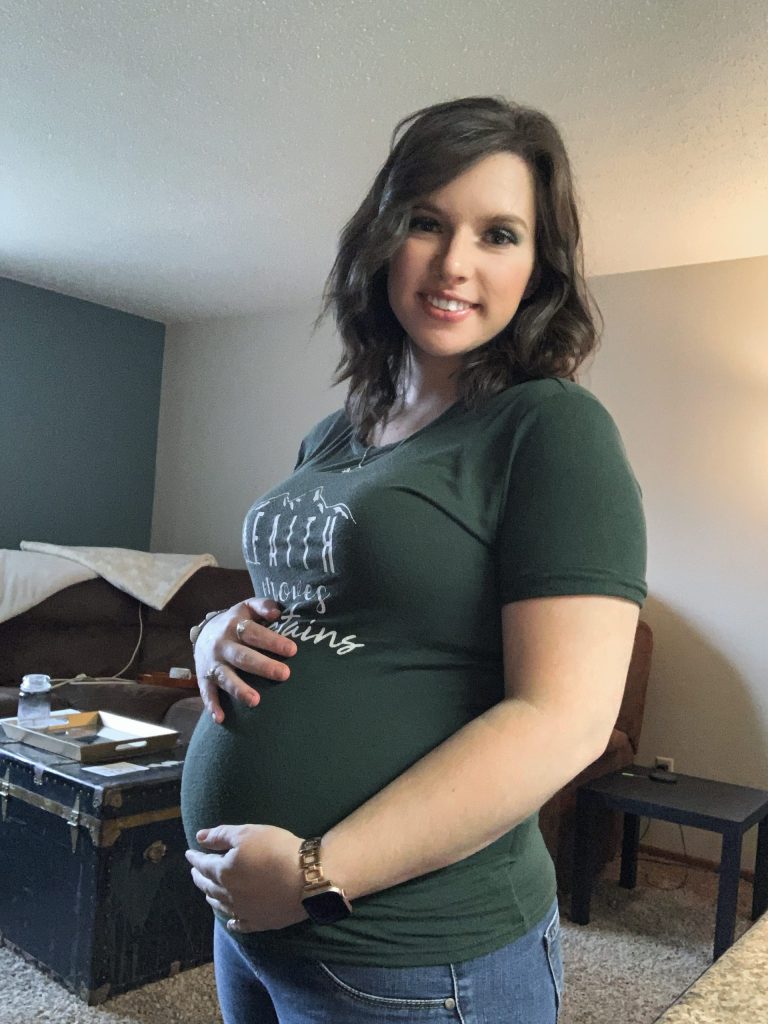 Making Minnesota medical history
October 2020 was a time of preparation for Kinzie and Jeffrey. Not only were they dealing with the first waves of the COVID-19 pandemic, they were also more than 400 miles away from Bismarck planning for their upcoming fetal surgery and the birth of their daughter.
At 26 weeks gestation, after extensive evaluation, Dr. Lillegard and the fetal intervention team proceeded with Kinzie's fetoscopic MMC repair procedure. After making an abdominal incision to expose Kinzie's uterus and positioning Stella to allow access to her back, Dr. Lillegard made three, five-millimeter incisions in Kinzie's uterus. He then inserted a small camera, called a fetoscope, through one incision. Using the fetoscope to see baby Stella's spine, Dr. Lillegard used "micro" surgical instruments to repair the unborn child's spina bifida. The entire procedure was a team effort, and also included experts from the Children's Minnesota Neurosurgery program.  After five hours, the specialists successfully completed Minnesota's first fetoscopic MMC repair.
"I'm thrilled with the outcome of Stella's fetoscopic MMC repair, and I'm grateful the Midwest Fetal Care Center is able to provide such an innovative procedure to help more babies just like her," said Dr. Lillegard. "By utilizing a fetoscope in eligible fetal MMC repair procedures, we're able to remove the need for an open spina bifida correction procedure. This lowers the level of invasiveness, surgical time, blood loss and potential tissue damage to both the unborn baby and their mother."
"I feel like it was a very big honor," Kinzie said. "I feel like it was 100% successful and I was so proud to be that first surgery."
Stella's story is just beginning
On January 14, 2021 – ten weeks after her fetoscopic MMC repair – baby Stella entered the world with no damage to her spine or spinal cord. Since her birth, she logged the 400-plus mile trip with her parents back to Bismarck, plus another roughly 1,000 miles when her family moved to just outside of Oklahoma City. Stella's road to recovery has been long as well. She spent nine weeks in casts to help correct her clubbed feet, and Stella continues to see specialists to monitor her spina bifida and other diagnoses. As she recovers, she's also learned to crawl.
"We were told that she has the potential to walk, but may need some assistance with a cane or wheelchair when she gets older," Jeffrey explained.
This past October, during Spina Bifida Awareness Month, Stella's family reflected on the moments they learned their first born had the condition, and her journey since undergoing the first fetoscopic MMC repair procedure in Minnesota.
"This surgery is definitely a miracle," Kinzie said. "The hardest day is finding out your kid has spina bifida. Once you see them born, you can tell they have so much potential. They will amaze you, you will think 'my child is amazing and is going to move mountains.'"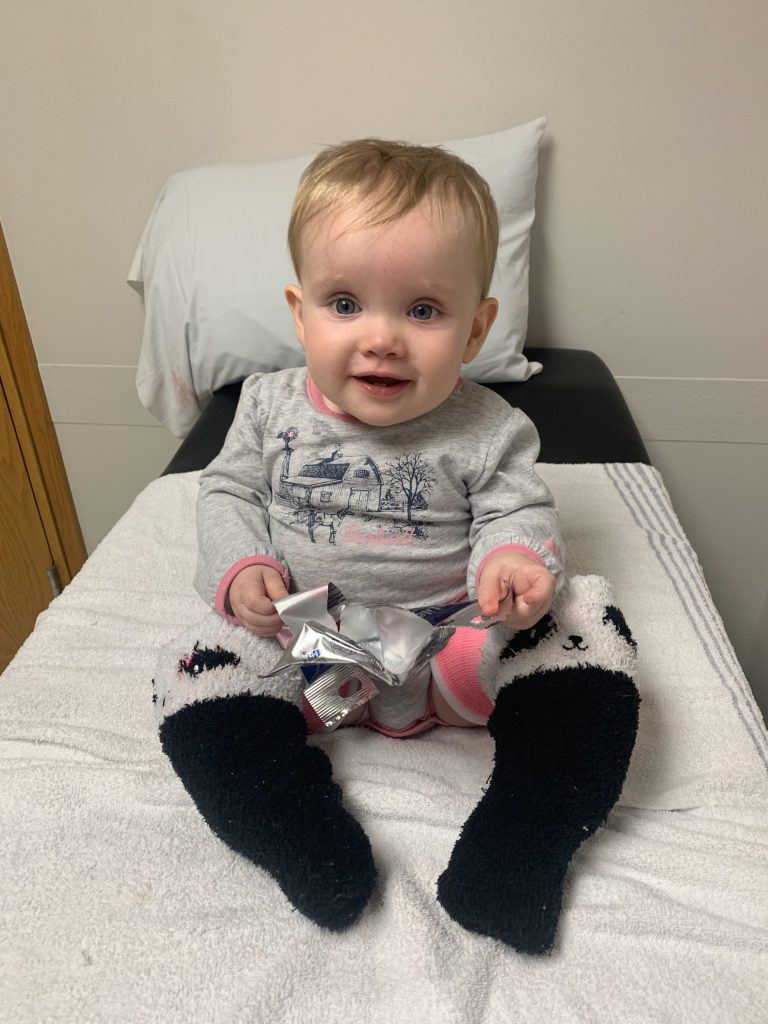 About the Midwest Fetal Care Center
The Midwest Fetal Care Center (MWFCC), a collaboration between Allina Health and Children's Minnesota, brings together a multi-disciplinary team of highly trained maternal-fetal medicine experts from Allina Health and pediatric and neonatal specialists from Children's Minnesota. Open since 2008, the MWFCC is a national referral center and regional leader in fetal diagnosis, fetal intervention and comprehensive fetal care for unborn babies with complex conditions. Learn more about the MWFCC and the fetoscopic Myelomeningocele (MMC) repair procedure.