All any mom hopes for is a safe pregnancy, a complication-free birth and a healthy and happy baby. For first-time mom Darby Muller, an unsettling discovery at her 20-week ultrasound made these wishes uncertain. When Darby and her husband Brad went in for a routine check-up at their family care provider in Fort Dodge, Iowa, the doctors diagnosed baby Muller with spina bifida, a spinal cord defect that exposes and damages the nerves that control large motor functions like walking, running and jumping.
The Mullers make their way to Minnesota
After confirming the diagnosis with a second physician in Des Moines, Iowa, the Mullers were referred to Midwest Fetal Care Center (MWFCC). The MWFCC is a collaboration between Allina Health and Children's Minnesota that brings together a multi-disciplinary team of highly trained maternal-fetal medicine experts from Allina Health, and pediatric and neonatal specialists from Children's Minnesota.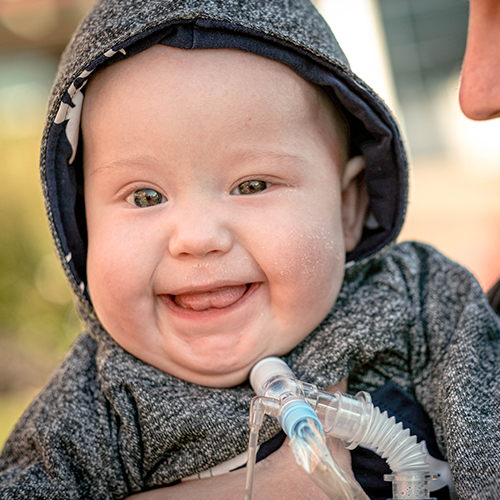 Upon referral to MWFCC, the Mullers were paired with perinatal social worker Anne Seaton as they began navigating this challenging diagnosis.
A social worker steps in to support
Social workers are often a less well-known part of the care team. You may be asking; what role do they play? After the baby is prenatally diagnosed, the social worker empowers the family to play an active role in the decision-making process during the remainder of the pregnancy, birth and after-care. They help families weigh the pros and cons of various treatments and support them in whatever option they choose.
Social workers also address other complexities including the medical, social, psychological and spiritual aspects of a patient's life. These include things like mental health, chemical dependency, financial needs and the presence (or absence) of a support system for the parents and baby.
Baby Muller's surgery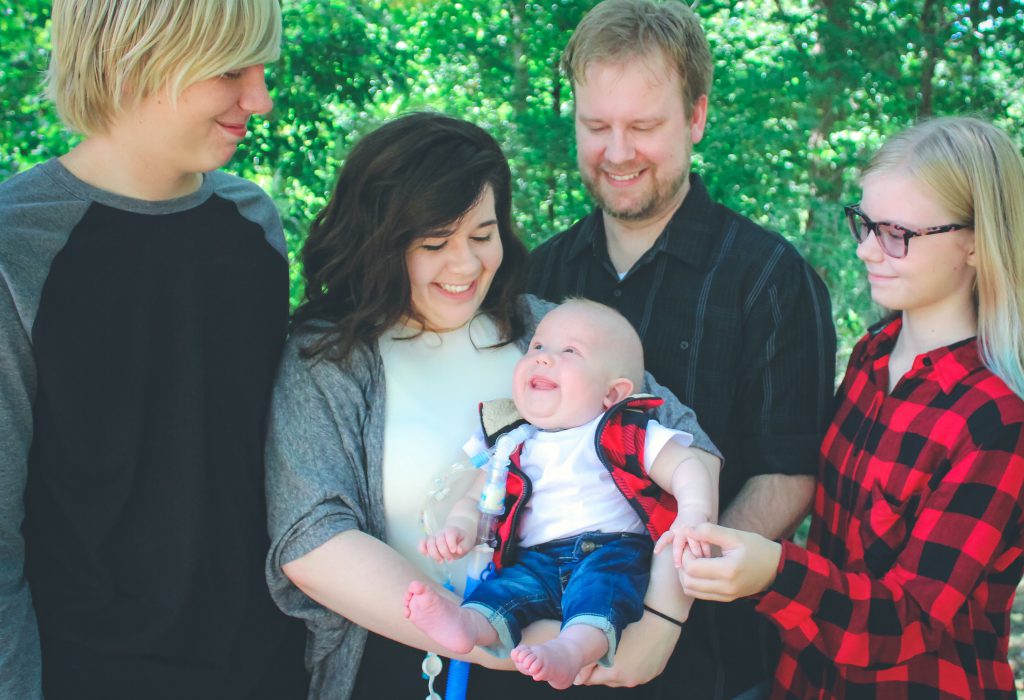 After the medical care team and the social worker identified Darby and baby Muller as good candidates for surgery, the first major decision the family faced was whether to opt for prenatal or postnatal spinal repair surgery. Darby and Brad had to factor in their relocation from Iowa, Brad continuing to work fulltime, and caring for their blended family back home. With the counseling and support of Anne, the Mullers ultimately decided on the prenatal repair option.
The surgery went well, but because Darby's amniotic fluid levels were unstable, she was readmitted several times. In case of emergency, Darby stayed in Allina Health's patient apartments where she could be more easily monitored.
Odin's birth
Thankfully, Odin Muller was safely born via Cesarean section (C-section) on March 9, 2020. His birth would be followed by a 143 day stay in the neonatal intensive care unit (NICU) at Children's Minnesota.
"It was very comforting to know Anne was there to guide us and our son through this long and sometimes scary journey," said Darby. "Anne was by our side from the moment we chose the Midwest Fetal Care Center to after Odin was discharged from Children's Minnesota on July 29, 2020. We cherished that consistency and support during the hardest time in our lives."
A unique care model
The Midwest Fetal Care Center is the only fetal care center where social workers follow mom and baby shortly after their prenatal diagnosis, during delivery, throughout their postnatal hospital stay and up to six months after baby is discharged.
"It is an incredibly rare and unique model," said Anne. "Time and time again, we are told how much relief this relationship-building model brings families; they know they have an advocate in their corner every step of the way."
Baby Odin was in the care of some of the most respected and renowned maternal-fetal medicine nurses and physicians including Dr. Joseph Lillegard, Dr. Joseph Petronio and Dr. Saul Snowise who brought a sense of calm and reassurance amid Odin's unexpected breathing difficulties in the NICU.
"During stressful times in pregnancy, birth and after-care, many parents push their own needs aside. Of course, it comes from a place of love for their baby. However, it is my job as a social worker to take in the big picture and make sure everyone's needs are met," said Anne. "It is so important to not only remind parents that their health and wellbeing are crucial parts of the picture, but to also help them address any personal challenges or stressors they may be facing."
The benefits of Children's Minnesota's wraparound services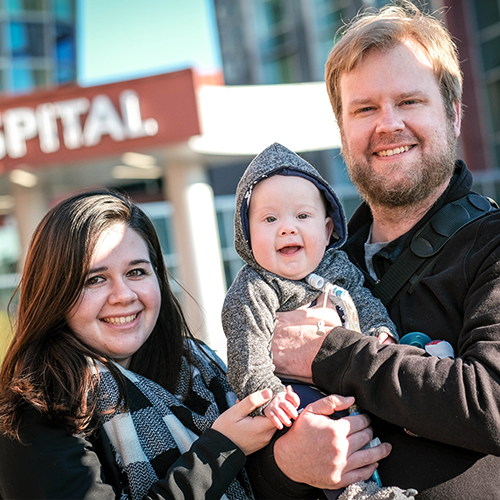 Many of these needs are met through Children's Minnesota wraparound services and dedicated staff roles; from the obvious like doctors and nurses to the more nuanced like child life specialists, dieticians, music therapists, social workers, spiritual counselors and more.
"Darby and Brad are very loving, caring and patient parents who extended grace to the team as we all navigated a complex diagnosis," said Anne. "I hope they feel I was a social worker who advocated for their family, assured their voice was heard, addressed their concerns and made the best possible outcome for Odin."
Baby Odin today
Today, Odin is at home with mom, dad and two half siblings. "Before we came to the Midwest Fetal Care Center, Odin's diagnosis was harsh and grim. The doctors doubted whether he would have a high quality of life. We felt helpless," said Darby. "Fortunately, the dream team of doctors and nurses at the Midwest Fetal Care Center and Children's Minnesota gave us a clear diagnosis, provided detail on what happens to kids with his type of lesion and how to preserve function through repair. We felt, and still feel, hope again."
Baby Odin is growing bigger and stronger every day and receives follow-up care with Dr. Petronio. We wish the Mullers the best and can't wait to watch Odin grow up.