Passion for music and healing people: a music therapist's perfect combination
Listening and playing music is something we do for any mood – when we're sad, when we're happy, when we want to relax, when we want to dance, sing. Music is good for the soul.
And, music therapy researchers are continuing to add to the body of evidence that suggests the power of music can also have significant benefits to patients and their families in clinical settings.
Hear from Erinn Frees, MA, MT-BC, board-certified music therapist at Children's Minnesota, about the importance of incorporating music into the healing process of patients in the hospital.
The Mother Baby Center is a partnership between Allina Health and Children's Minnesota, which means you and your baby receive expert, respectful, and personalized care across your whole journey. Erinn brings music to babies who are born at The Mother Baby Center but may need additional care at Children's Minnesota.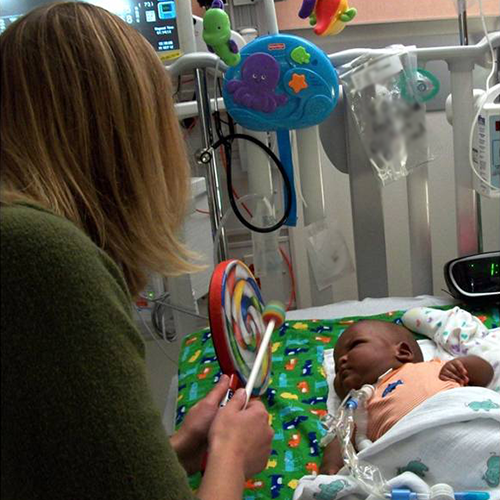 Music therapy sessions for babies
Babies, kids and teens don't need to have a musical background in order to benefit from music therapy. Also, each patient will benefit from this differently based on their unique goals. "We design all of our treatment plans to meet the specific needs of each patient, so it's very individualized," said Erinn. "We always use patient-preferred music in our sessions too, as this has been shown to create maximum engagement in the music therapy process."
What does music therapy look like for infants?
Music therapy for infants is typically aimed at relaxation/comfort, developmental engagement, and family support and bonding goals. Music therapy may reduce stress in infants, increasing oxygen saturations and lowering heart and breathing rate. When interacting with an infant, a music therapist might:
Sing or hum softly to your baby.
Encourage family involvement through singing along or rocking their baby.
Teach families how to use music to encourage growth and development.
Adapt music to be appropriate for infants who are able to tolerate only minimal levels of stimulation.
Play a reverie harp or guitar.
Use interactive percussion instruments and songbooks to encourage reaching, grasping, visual attention and interaction.
Benefits of music therapy
There are many benefits of music therapy for patients of all ages in the hospital.
Pain management.
Physical rehabilitation.
Anxiety reduction.
Learning coping skills and techniques.
Stress reduction.
Family support.
Relaxation.
Normal growth and development.
Opportunities for choice and control.
Positive change in mood and emotional states.
Self-expression.
Positive physiological changes.
"The most rewarding part of my job is seeing patients reach their goals, both big and small. I love seeing how parent beams with pride as they say, 'I've never seen my baby do that before,'" Erinn says.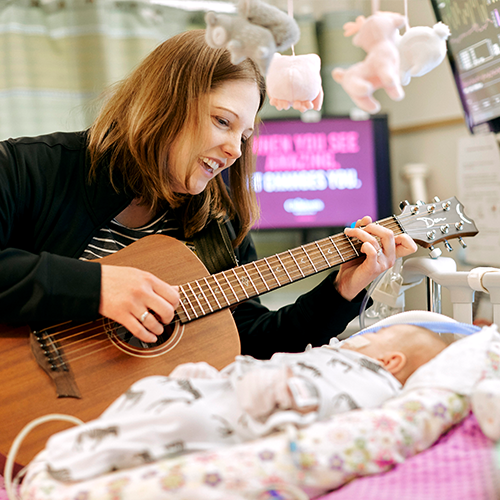 In the end, humans are inherently musical and rhythmic. "There is a large body of evidence that shows people respond in predictable and significant ways to music therapy interventions," describes Erinn.
And Erinn is so glad to be a music therapist spending her days doing her two favorite things.
"I became a music therapist because it was a way to combine a passion for music with a passion for helping people," said Erinn. "I have so many moments that I'll never forget, especially ones where I can see that the music created that 'breakthrough moment' – something that wouldn't have happened otherwise."
Music therapy at Children's Minnesota
The Mother Baby Center is a partnership between Allina Health and Children's Minnesota. Children's Minnesota music therapists help patients of all ages – including newborns and infants from The Mother Baby Center.
Children's Minnesota music therapists are trained at a bachelor's or master's degree level and have completed a supervised, clinical internship using music therapy. Practicing music therapists are required to obtain and maintain certification (MT-BC) through the Certification Board for Music Therapists.