According to an obstetrician at The Mother Baby Center
As the COVID-19 (coronavirus) pandemic continues to unfold, many people, including pregnant women, are experiencing increased anxiety about receiving health care. This is also true when it comes to giving birth.
Some women may be considering home birth because they are worried about getting COVID-19 at the hospital, being separated from their baby after birth or not being able to bring more than one support person with them.
Dr. Tricia Harper, an obstetrician at Allina Health and The Mother Baby Center, explains why giving birth at The Mother Baby Center will be a better and safer experience for you and your baby, even amidst the COVID-19 pandemic.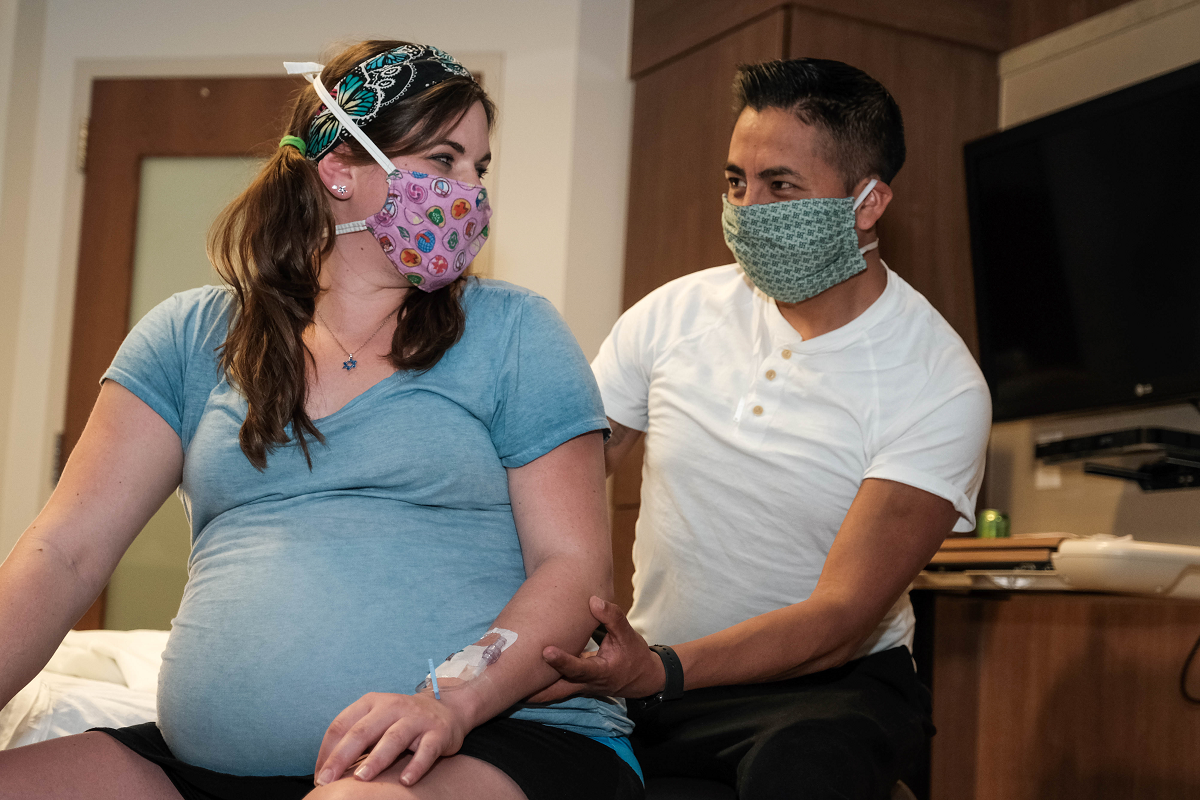 We're prepared in case of emergency
"Most of the time birth goes well and healthy mothers have healthy babies," Dr. Harper explained, "The biggest reason to give birth in a hospital is for the less common events; it's for the unexpected."
With any birth, there can be risks, such as hemorrhage or bleeding, infections, or babies getting stuck. While The Mother Baby Center always wants to support your birth plan, it's our job to be there for you in case of an emergency. For example, sometimes babies can get stuck which may require a cesarean birth (c-section). In fact, 10-15 percent of first-time moms will need to have a c-section to prevent injury to themselves or to their baby, according to Dr. Harper.
Emergency care without delay
The Mother Baby Center, a partnership between Allina Health and Children's Minnesota, is equipped to handle any emergency quickly, so you don't have to worry about getting the care you need quickly.
Whether mom or baby needs emergent care, we are here for you. There are obstetricians and nurses on staff to help with any care you may need, and there are newborn care units nearby in case your baby needs help transitioning from the womb to the outside world. Our Minneapolis and St. Paul locations are close to neonatal intensive care units (NICU) for more critical needs. When giving birth at home, these types of emergency care can be delayed.
We can offer you services you can't get at home
At The Mother Baby Center, we offer many supportive services to you before, during and after labor:
Pain management including epidurals.
Emergency care.
Mental and emotional health support throughout labor.
We're here to support your decisions
We are here to support your labor experience, and want to ensure that you feel comfortable.
Many mothers worry if they had a c-section with a previous birth that a hospital will not allow them to have a vaginal birth. At The Mother Baby Center, we encourage moms who want to try vaginal delivery with their next baby to do so, but we want to be there to support you and make sure you and your baby are safe during labor.
We're here to protect you and your baby
We are here to protect you, whether it be from emergency needs during labor or from infections like COVID-19. The Mother Baby Center has designated entrances, so you and your support person will not enter the building through hospital entrances or through an emergency department.
We have put extra precautions in place that are designed to protect you and your baby from COVID-19:
Our care staff wear masks, and we provide masks to any patients with COVID-19 symptoms.
We offer negative pressure rooms to moms who show symptoms of COVID-19 to keep our staff and other patients safe from infection.
We reduced our visitors to one support person per patient.
We screen all visitors for wellness.
Each patient and visitor is given a mask.
All of our staff screen themselves for wellness before coming to work.