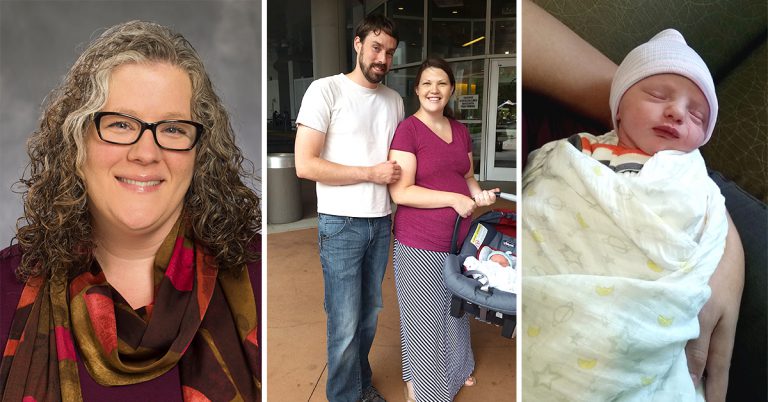 When Melissa started planning her family, she knew she would have a midwife by her side. Being a postpartum nurse at The Mother Baby Center, she was well acquainted with the midwife team and eager to experience pregnancy and childbirth in their care.
Melissa knew she could expect a hands-on approach, but what she got was so much more. "I just wanted a healthy baby," she said. "I knew I would be in good hands, but I got so much more than great medical care."
"The midwives really empowered me to take charge of my pregnancy and birth. I wanted it to be as natural as possible, but safe. For me, that meant additional intervention only if I needed it, like an OB if things took a turn. Other than that, they were my people." she recalls.
When Melissa's water broke at 37 weeks, before her GBS results came back, she was concerned. "They were masters at helping me manage my anxiety," she reports, "and that's one of the great things about midwives: They're everything in one — a medical provider, an advocate, informative, nurturing…"
One of her favorite midwife memories, though, had nothing to do with herself or her baby, but her husband. Her midwife reassured him throughout the process and made sure he got some rest after several hours of waiting for Melissa's labor to progress. "He was worried, and it was just so comforting to know he was being looked out for too," she beams. "That was seriously above-and-beyond."
And what of this incredible team of women? Who are they? We spoke to their fearless leader, Kathrine Simon, to find out.
"I come from a long line of caregivers. My great grandmother was a traditional midwife in Belgium," she says. "It must be in my DNA."
And it would appear so. Kathrine describes pregnancy and childbirth in almost intuitive terms. She is so attuned to how a woman's body "speaks" during this incredible time, it's as if it has a language all its own. "I can often tell where a woman is in her contractions just by listening to her breathe over the phone," Kathrine shares. "Bodies tell you what they need."
And that conversation starts early in pregnancy. Kathrine and her team of midwives work in tandem to provide care throughout pregnancy and childbirth for the moms who choose to have a midwife attended birth at The Mother Baby Center.
The birth plans of their moms-to-be are as unique as each woman, running the gamut from all-natural water births to taking advantage of many modern medical services. For Kathrine and her team, though, it tends to be less about how and more about who.
"Pregnancy and birth can be very emotional," notes Kathrine, "and sometimes it catches families off guard. Maybe the smell of the antibacterial foam conjures a memory of a relative who was in the hospital, or maybe their last birth was difficult, and that fear hits them out of nowhere. Those are the times when our passion for what we do and our experience can really help. And that's what we live for." She adds, "These women, these families are all so brave and wonderful and inspiring, that we are honored to be part of these precious milestones in their lives."
And after more than 20 years, Kathrine has been a part of myriad milestones. "Now I'm seeing the babies of some of the women I worked with earlier in my career coming back to have their babies, and I am seeing their mothers through menopause," she concludes. "I am so impressed by all of them. I absolutely love what I get to do and feel so lucky."
Melissa, her husband, Eric, and their son Kieran consider themselves lucky, too, along with countless other families this stellar midwife team has served to maternity and beyond.
Learn more about our certified nurse-midwives.