What would the ideal place to have a baby look like? What innovative services would it provide? Specialists in maternal-fetal medicine have asked this question for years, and the past decade has seen the emergence of several specialized birthing hospitals throughout the country, most recently in Minnesota.
The inception of The Mother Baby Center  reflects the commitment of Allina Health and Children's Hospitals and Clinics of Minnesota to unite the state's leading maternal and fetal care centers under one roof to provide a full spectrum of care for mothers and babies. Situated between the two hospitals in Minneapolis, the new four-story, 96,000-square-foot facility was designed to eliminate barriers to administering a comprehensive care model.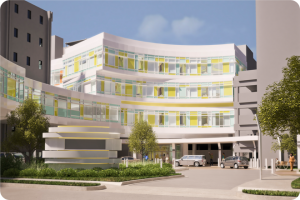 One such barrier was the nearly quarter-mile distance between Abbott Northwestern Hospital, Minnesota's largest birthing center, and Children's, home to scores of specialists in neonatal and pediatric care. Thanks to a skyway connecting Abbott Northwestern along with direct access to the Children's neonatal intensive care unit (NICU), the Center removes the care detriment to at-risk newborns during their first hour of life. Additionally, with all necessary services available in one building, mothers and babies are able to remain together in private rooms following labor and delivery.
"The design of The Mother Baby Center had to maximize patient and staff experience and function at the highest level of excellence to maintain the identity of both signature hospitals," said Mike Rodriguez, Associate Vice President and Senior Project Designer at HDR Architecture, Inc.
Rodriguez, who has orchestrated surgical and emergency facility expansions in the past, served as lead project designer for the Center. "We came up with a design that re-examined the entire birthing experience, from the moment you arrive until the moment you leave," he said.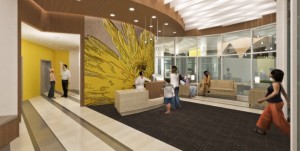 Whether an expectant mother arrives in active labor or for a scheduled C-section, she will be welcomed in the first floor reception area and directed accordingly—typically to the third floor maternal assessment center (MAC), where mothers are observed upon arrival to determine next steps.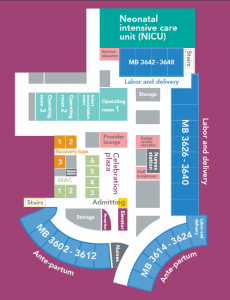 From the MAC, patients are directed to one of 13 labor and delivery rooms or three operating rooms—each located on the third floor. The concentration of labor and delivery infrastructure allows providers to prepare for each delivery as well as each family's unique expectations.
"We interviewed past and future mothers to find out what they like and don't like about birthing centers," explained Rodriguez, who also consulted with environmental service professionals, IT staff and physicians. "From this 'deep dive,' we managed to create a birthing center that will be unmatched by others in the region."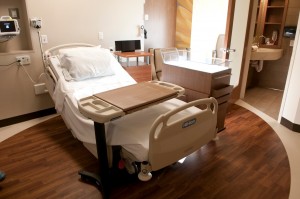 Following birth and any additional procedures to address maternal or newborn complications, mother and baby are transferred to postpartum facilities located on the second and fourth floors of the Center. These private recovery rooms allow for vital "getting to know you" time in a peaceful environment.
Other features of the Center include:
Scaled patient room "neighborhoods" instead of endless hallways
A nursing station and family nutrition center for every "neighborhood"
A two-story "celebration plaza" connecting the third and fourth floors for patient, physician and visitor interaction
From admission to discharge, mothers and their newborns will enjoy state-of-the art birthing facilities designed to promote best maternal-fetal medical practices to improve outcomes, reduce cost and provide a fluid experience for everyone involved.
"This is a timeless building that will inspire families and staff for decades," said Rodriguez. "It truly is a work of art that functions to the highest level of patient care."