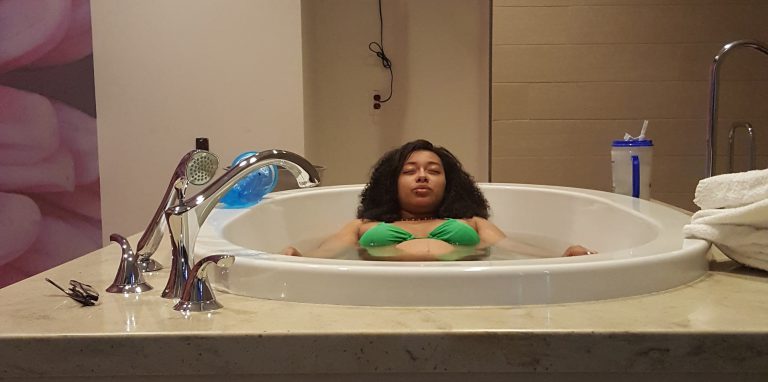 The Mother Baby Center was created as a collaboration between Allina Health and Children's Minnesota to, in part, give expecting mothers more options when it comes to labor and delivery. A water birth is one of the options we're proud to offer at our Minneapolis and St. Paul locations. For moms like Lani, it can make the birthing experience "beyond amazing:"
"I had both of my daughters at the Minneapolis location, both experiences were lovely, but my second was beyond amazing. I had a water birth and everything went so fast and smooth, they gave me room until I was ready. I love The Mother Baby Center!"
-Lani, pictured above
There are benefits to giving birth in water, but it's not for everyone. In fact, if you're interested in a water birth, a good first step is to talk with your doctor or midwife about the criteria below to see if this birth option is right for you.
Water birth criteria:
full term, low-risk pregnancy
free of infection and other medical conditions
pregnant with one baby (not twins)
no history of high blood pressure
no history of bleeding disorders
no complications during pregnancy or labor
must meet pre-pregnancy BMI criteria
What are the benefits of water birth?
Once you and your pregnancy care provider have talked about water birth, you may want to consider why you might want to labor and/or deliver in water.
Benefits of a water birth may include:
Relaxation; the warm water can be soothing, which can help the body produce more pain-inhibiting hormones and less stress-inducing hormones.
Ease of movement; some women find that laboring in water helps them feel lighter, find more comfortable positions, and move about more freely during labor.
Improved circulation; this can help mom have more efficient contractions and deliver more oxygen to baby.
Reduced risk of tearing due to a more relaxed body.
An environment that helps foster an increased sense of privacy and focus.
There may be additional benefits of a water birth for baby too, like easing the stress of birth and creating an environment similar to being in the uterus surrounded by fluid.
What happens during a water birth?
Our water birth facilities feature special birthing tubs that are larger and deeper than a regular bathtub so that the water can cover the mother's abdomen. If you'd like to try laboring or delivering in a tub, your doctor or midwife, along with The Mother Baby Center's labor and delivery nurses, will be there to provide expert support.
You can always change your mind about delivering in the tub on the day of your labor, but if you're eligible and you think you may want to experience a water birth, make sure you plan ahead with your doctor or midwife during your prenatal visits. It will also be helpful to sign the necessary consent forms at a prenatal visit.
We'll be happy to show you our water birth tubs and facilities when you take a tour of The Mother Baby Center!